Wednesdays@DEI: Talks, 15-03-2023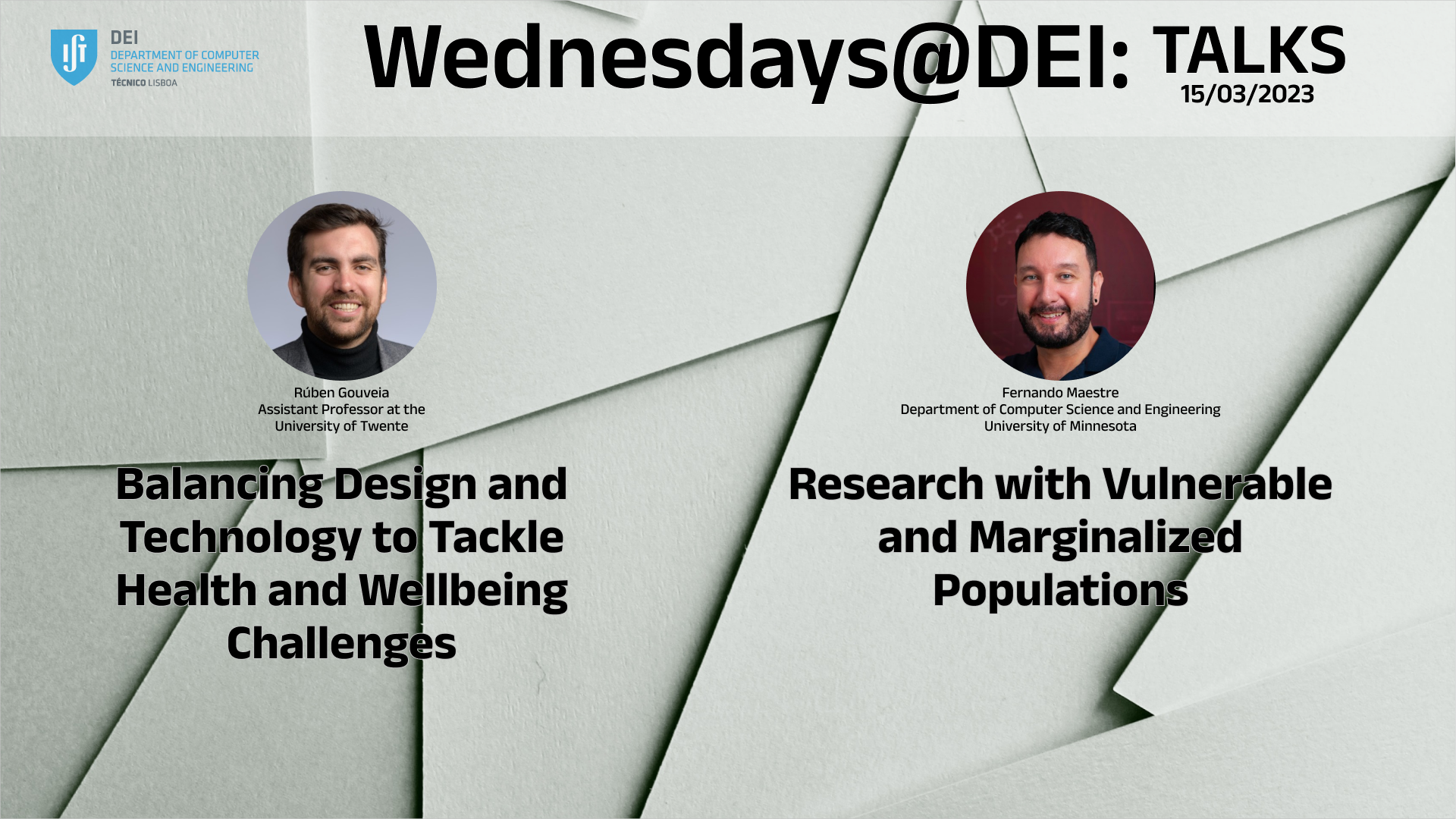 Author & Affiliation: Rúben Gouveia, Assistant Professor at the University of Twente
Title: Balancing Design and Technology to Tackle Health and Wellbeing Challenges
Abstract: Many patients and health providers believe that health technologies, particularly those that incorporate self-tracking, have the potential to provide a more complete and accurate understanding of an individual's habits and overall health. Such an understanding could lead to more personalized care. However, current tools often fail to support the goals people have for health tracking and management, leaving this potential largely unrealized. In this talk, I will discuss some challenges to the design of digital health tools, and how I address this within my research. I'll discuss how my own research balances design and technology to support people in expressing and pursuing their multiple, distinct, and evolving goals to help them overcome barriers to personalized health management.
Bio: Rúben Gouveia is an Assistant Professor at the University of Twente's Department of Design, Production and Management. Working on challenges of health and wellbeing, he designs and evaluates tools for helping people collect, visualise and make sense of their health data. Core to Rúben's research is the question: how can we design health tracking tools that account for the reality of people's everyday lives?
Rúben's research has been funded by the Portuguese Foundation for Science and Technology and the Dutch Research Council. His work has been recognized internationally by best paper nominations, features in the written press, and a UbiComp Gaetano Borriello Outstanding Student Finalist Award, which recognises outstanding research contributions and leadership in the field of Ubiquitous Computing.
----------
Author & Affiliation: Fernando Maestre, Department of Computer Science and Engineering, University of Minnesota
Title: Research with Vulnerable and Marginalized Populations
Abstract: Technology can have unintended negative impacts or consequences in people's lives. For example, the design of a user interface may exclude certain populations by having a text-field data entry for gender including only the binary option of man and woman. More recently, technologies that use machine learning and artificial intelligence may reflect and even exacerbate systemic bias and inequalities experienced by racial and gender minorities and other vulnerable groups. In my work, I aim to reduce these unintended consequences in the design of technologies through mixed and participatory design (PD) methods. This has been particularly important in my research as I have been working with vulnerable and marginalized populations such as people living with stigmatized chronic health conditions like HIV, or those with non-normative gender identities. I will go over an example of my latest work with these populations where I used PD in an online setting. I will end the talk with a research agenda for ongoing and future work that explores potential ways in which PD could be used for a more ethical design of algorithm-based technology that would take in account multi-stakeholder values and that could be more sensitive and reactive to historical and systemic inequalities.
Bio: Dr. Fernando Maestre (he/him) is an Ecuadorian researcher and educator. He obtained a Master's degree in Informatics from the University of Iowa and a Ph.D. degree in Human-computer Interaction Design from the Luddy School of Informatics, Computing, and Engineering at Indiana University. Fernando conducts Human-Computer Interaction (HCI) research with vulnerable and marginalized groups. He applies mixed and participatory design methods to conduct research in in-person and online settings to assess and design technology. Fernando is also versed in health informatics and transportation access research. He is currently a President's Postdoctoral Fellow and a member of the GroupLens Lab in the Department of Computer Science and Engineering at the University of Minnesota conducting research on algorithm-based technology for mental health and gender identity exploration.
Tópicos: