Open faculty search 2023-2024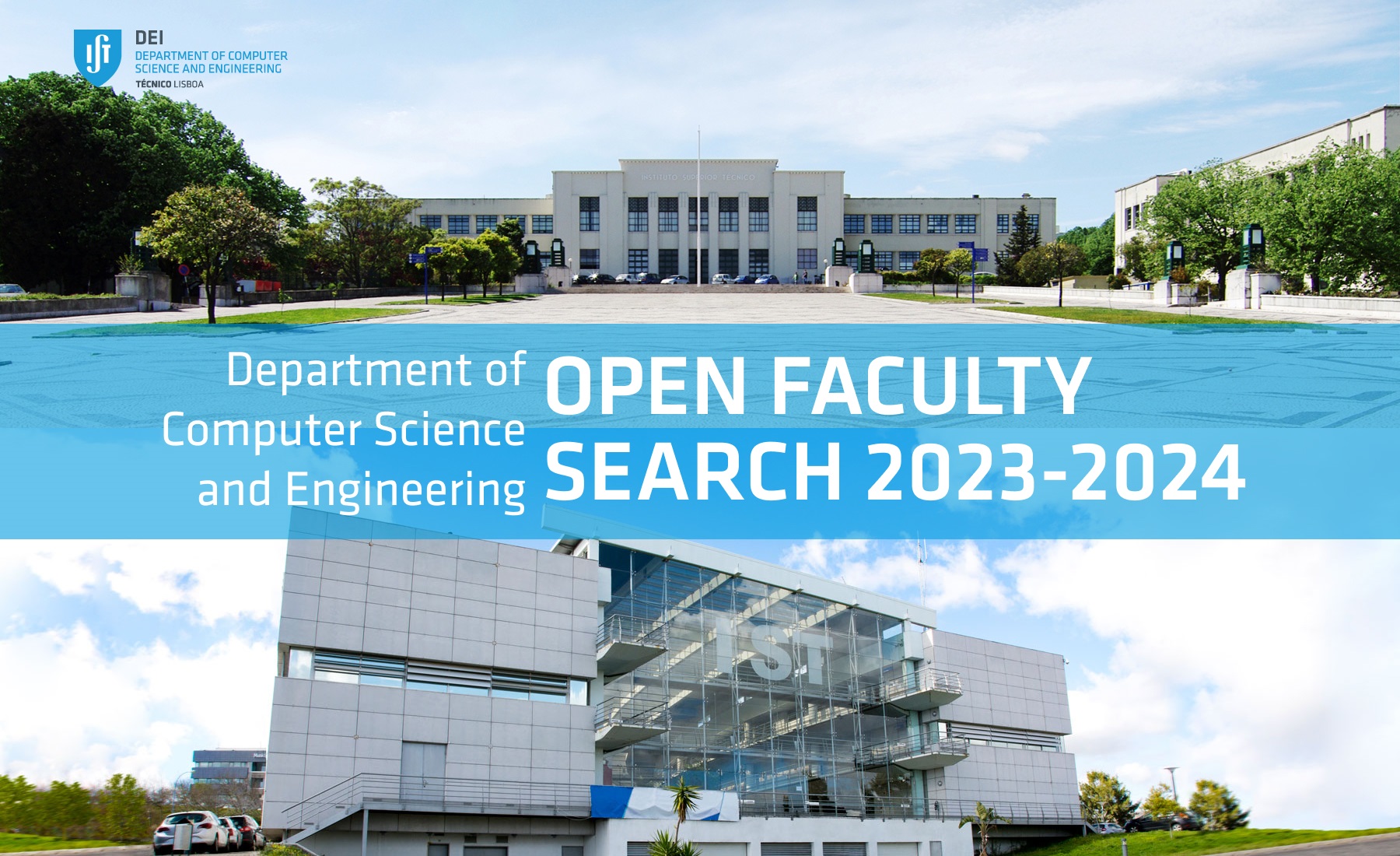 The Computer Science and Engineering Department of the Instituto Superior Técnico - Universidade de Lisboa is carrying out an open search process for possible candidates for openings for faculty positions to happen in mid-2024. This open search is targeted at possible candidates, who have an interest in enrolling at the base level of the university professional career (Assistant Professor), in all scientific areas of the Department, namely:
Artificial Intelligence
Architecture and Operating Systems
Graphics and Interaction
Information Systems
Programming Methodology and Technology
Candidates should send to cse-facultysearch@dei.tecnico.ulisboa.pt a zip file containing the following materials:
Curriculum Vitae
Teaching and research statement
Contact (including email address) of three researchers or professionals from the area, who can be contacted to provide reference letters, attesting to the scientific, pedagogical, and professional qualities of the possible candidate.
For full consideration we recommend sending your materials by November 1st, 2023, although we continue to review the materials we receive past that date, until the end of December 2023.
For any additional questions please contact the Department through dei@tecnico.ulisboa.pt.
Below, you will find a brief description of our department (more information can be found in our website https://dei.tecnico.ulisboa.pt (PT) or https://dei.tecnico.ulisboa.pt/en (EN)).
Good luck!
---
IST and DEI
Instituto Superior Técnico (IST) stands as Portugal's largest and one of the most reputed institutions for Engineering education. Since its establishment in 1911, IST has been dedicated to advancing society through the provision of exceptional higher education in the fields of Engineering, Science, Technology, and Architecture, both at the undergraduate and postgraduate levels. Furthermore, IST is committed to fostering Research, Development, and Innovation (RD&I) initiatives that enable the delivery of educational programs aligned with the highest international standards. Its mission is thus encapsulated in the three pillars of modern university: the creation of knowledge, the cultivation of proficient professionals, and the dissemination and application of knowledge and innovation. Comprising nine Engineering departments, IST collaborates closely with some of Portugal's most prestigious RD&I and technology transfer organizations, yielding notable international impact across a wide spectrum of scientific and technological domains.
IST's Department of Computer Science and Engineering (DEI) is committed to advancing society through the promotion of educational excellence in the field of Computer Science and Engineering. This commitment encompasses both undergraduate and graduate programs and extends to the execution of RD&I activities adhering to the highest international standards.
DEI offers a range of academic degrees, including BSc, MSc and PhD degrees in Computer Science and Engineering, with LEIC (BSc) being the largest undergraduate program at IST, and the largest and most sought-after Computer Engineering program offered by Portuguese universities. MEIC (MSc) is another major DEI offer, with a very comprehensive and up-to-date diverse scientific areas, from artificial intelligence to cyber-security, to name a few.
The department's commitment to educational resources development is underpinned by a robust research and development strategy, centered around research centers and institutes. This approach has yielded a faculty with national and international recognition, characterized by a level of quality that upholds IST's tradition of excellence. Currently, DEI boasts a distinguished team of approximately eighty professors, organized into five distinct scientific areas: artificial intelligence, architecture and operating Systems, graphics and interaction, and information systems and programming methodology and technology.
Tópicos: